EURO · NODE NETWORK

A Network of interacting Intermodal Logistic Parks (EURO · NODES) throughout Sweden and Baltic Sea Region. Each EURO-NODE comprises facilities for the rapid transference of goods between transport modes (road, rail, sea and air), a Logistic Centre optimising logistical processes between manufacturer and (international) customers, an industrial park and a wide range of service facilities.
EURO · NODES represent dynamic growth centres for logistic-intensive industries within the European transport network.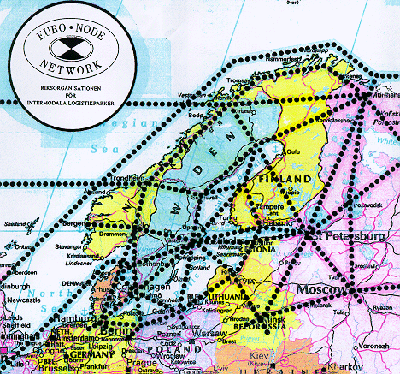 EURO · NODE initiated by Windborne Group in 1994, is now a co-venture involving Local and County Government, Industry and Public Agencies.
Windborne International has, in collaboration with The Nässjö Local Authority in Sweden, developed a Development Prospectus for the project "Logistic Park Nässjö" (LPN).
LPN is designed to become a key component of Sweden's Euronode Network, offering efficient multi-modal solutions between Sweden and Europe from a unique geographic location next to the main north-south rail and road infrastructure. LPN is already operating as an important National Rail Port for Gothenburg Sea Port and has direct rail shuttle links with industrial and logistical centres in Germany, Holland and other parts of Europe.
LPN is being developed to provide logistically-intensive corporations and institutions with a synergy-enhancing environment where organisations with complementary and competing activities can operate more efficiently, enhance the quality and volume of their business and, at the same time, introduce the environmentally-friendly benefits of multi-modal transportation into their businesses.
In this way, Logistic Park Nässjö will be of benefit also to the Community at large by improving transport links, will significantly reduce energy consumption and the carbon footprint of the transport sector.
Typical organisations establishing at NLP will be logistic and transport companies, manufacturing companies (for both assembly and full-scale manufacturing) as well as academic, research and product/system development organisations from within the logistics field. Read more >